Looking for a review of Green Chip Stocks by Jeff Siegel?
I recently discovered Green Chip Stocks whilst researching another investment program so I decided to take a closer look.
I've shared reviews of numerous advisory services and newsletters that sound similar so I wanted to find out more about Green Chip Stocks.
Keep reading below as I've put together an honest review sharing all the details.
Before I start…
If you're tired of scams and want a real solution for making money online check out my recommendation below.
It's helped me earn over $300k in the last 12 months alone:
Go here to see my no.1 recommendation for making money online
(This is a 100% free training)
Green Chip Stocks Review
Here is the table of contents for this review:
RECOMMENDED: Go here to see my no.1 recommendation for making money online
Introduction to Green Chip Stocks?
Green Chip Stocks is an investment advisory service that is run by Jeff Siegel and published under a boutique investment research firm called Angel Publishing.
Jeff Siegel started it in 2006 and he wanted it to focused exclusively on socially responsible investing with a predilection for organic agriculture, renewable energy, and legal cannabis. He wanted to show investors that they can, "do well by doing good."
It is similar to other programs I have reviewed lately like Victory Checks and The V3 Effect.
The focus is squarely on investments in alternative energy, sustainable investments, cannabis, and agriculture. It targets investors who approach wealth creation from this perspective.
The Green Chip Stocks website is one of a few on the internet that features articles covering the latest news stories in this niche. Jeff established it to show investors that investing in socially responsible businesses can make for a solid trading strategy.
A lot of what you see on Green Chip Stocks is influenced by Jeff's personality. He aptly describes himself as "an advocate for the legalization of cannabis, an MMA enthusiast, and a self-proclaimed libertarian treehugger."
What is a Green Chip?
Green Chip stocks (or Green chips) are companies in green or environmentally friendly industries that operate sustainably. It does not just refer to green energy stocks.
It is a play on the name "blue chip stocks" where green replaces blue to imply that the kind of company it refers to operates in a socially responsible manner or is closely associated with eco investing (not that blue means that blue chips are socially irresponsible).
Proponents of socially responsible investing only invest in companies that are that are engaged in socially responsible practices or involved in environmentally friendly industries. A business that develops a technology that preserves the environment for future generations is the ideal.
Green chip businesses are typically in industries like waste-to-energy, geothermal, organic agriculture, wind power, solar energy, hydrogen fuel cells, and smart grid.
RECOMMENDED: Go here to see my no.1 recommendation for making money online
Who is Jeff Siegel?
Jeff Siegel is a financial writer. He writes about renewable energy and legal cannabis stocks as well as other companies that fit the green chip description. Jeff is an investment veteran with more than two decades' experience working as an analyst, consultant, public speaker, and writer.
He is the founder and sole contributor to the website, Green Chip Stocks.
He spends most of his time on the speaking circuit talking about the importance of investing in ethically upright businesses.
His most notable accomplishment is writing the bestselling book, Investing in Renewable Energy: Making Money in Green Chip Stocks.
He has also co-authored Energy Investing for Dummies.
He is also credited with coming up with the term Green Chip Stocks to refer to stocks of companies that operate in a socially accountable manner.
He has made appearances on CNBC Asia, Bloomberg Asia, and Fox.
RECOMMENDED: Go here to see my no.1 recommendation for making money online
What you get when you join the Green Chip Stocks service
When you join Green Chip Stocks, you are entitled to the following:
Regular copies of the newsletter. In each issue, Jeff will identify a company that meets his requirements and recommend it.
Weekly Updates: Every week, you receive an update on the hottest green chip investment opportunities in the stock market.
Private Research Trips: You can join Jeff on his private research trips and attend investor dinners where like-minded investors congregate to discuss new ideas and upcoming market trends.
Direct Support: If you want to reach out to Jeff with questions or feedback about his service, you can either call him on (877) 303-4259, message him on Twitter, or fill out the form provided on the "contact us" page. There is also an option to send either a fax or a letter but the other three channels are arguably more effective.
The Website
The website is available for anyone who wants to read about Jeff's views on the stock market. On the main page, there are numerous articles discussing wealth creation through green companies. It also has Jeff's live Twitter feed.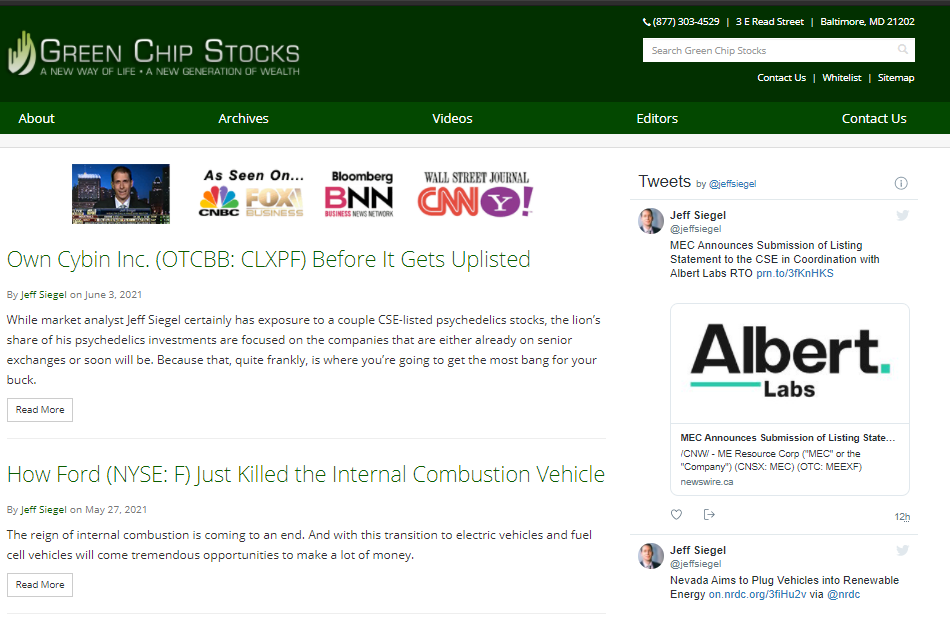 Jeff publishes news stories on the site to nudge people to invest in green stocks. It has an assortment of articles focused exclusively on green chips, green technologies, and ethical investments. In the video section, you will find interviews and documentaries that Jeff puts up to educate those who would like to learn more about green investing. The website is not encrypted and non-subscribers can visit too.
Subscription fee
You pay $249 for a one-year subscription to the newsletter.
Refund Policy
There is neither a money-back nor a performance guarantee. Here is Jeff's justification for that:
Green Chip Stocks is only for serious investors. This is not some fly-by-night newsletter. And any publications offered by Green Chip Stocks, including my latest report, are nonrefundable to ensure that all members are genuine about being a part of this exclusive community.
It is not uncommon for newsletters to set such terms.
RECOMMENDED: Go here to see my no.1 recommendation for making money online
Is Green Chip Stocks Legit?
Green Chip Stocks is a legit investment advisory service.
It is both an independent news website and investment research service that offers advice and investment recommendations on green investing.
Jeff follows a strategy that has worked for him and his readers in the past that entails navigating the markets and building a portfolio filled with green companies that look after the environment. There is a demand for that because some people do not like investing in companies that prioritize profit over the environment.
He doesn't always get his recommendations right, but that doesn't take away from the fact that it is a genuine service.
Pros
You do not have to subscribe to Green Chip Stocks to visit the website. There is a fair deal of educational content on it.
Jeff is quite good at spotting investment opportunities in the green industries. There aren't many experts focusing on this.
If you are strongly opposed industries like fossil fuels and the companies that benefit from them, the recommendations offered here will help you keep your principles intact.
Cons
There is neither a performance guarantee nor a refund policy. In case you change your mind about being a member, you cannot ask for a refund.
RECOMMENDED: Go here to see my no.1 recommendation for making money online
Verdict For Green Chip Stocks
If you prefer to engage in socially responsible investing in green industries, you will fancy what Jeff has to offer with Green Chip Stocks.
He majors in alternative energy, transportation, agriculture, and environmental sustainability.
The opinions he expresses in the articles are subjective because they project his viewpoints and fundamental beliefs.
For example, he has been quite vocal about cannabis legalization and the opportunities that are available in the industry.
In a nutshell, if your belief system leans towards his, you will love what Jeff Siegel offers with this service.
Before you leave
If you're tired of scams and want a real solution for making money online check out my recommendation below.
It's helped me earn over $300k in the last 12 months alone:
Go here to see my no.1 recommendation for making money online
(This is a 100% free training)