Instagram is a huge social media platform with a lot of potential for making money working from home. It is a source of income if you understand how to use it.
For example, influencer marketing is already huge and it is expected to keep growing. Therefore, there are opportunities to make money.
In this piece, we take a look at a few of those opportunities you can take advantage of to start making money online.
Before I start…
If you're tired of scams and want a real solution for making money online check out my no.1 recommendation.
It's helped me earn over $300,000 in the last 12 months alone:
Go here to see my no.1 recommendation for making money online
(This is a 100% free training)
How To Make Money Online With Instagram
RECOMMENDED: Go here to see my no.1 recommendation for making money online
How To Make Money on Instagram in 2023
You can make money online on Instagram and there are hundreds of success stories to prove this.
Although this list is not exhaustive, here is how you can get started:
Monetize your Instagram content with ads
Just like YouTube and blogging, you can make money on Instagram with in-content ads. The ads allow brands to promote themselves within your videos.
The amount of money you make is based on the number of views your video gets (Monetizeable Plays). You get paid 55% of ad revenue generated from each view.
You can turn on in-stream Video Ads in your account by visiting the Account Settings, tapping "Creator" — "In-Stream Video Ads" — "Get Started" — agree to the terms and conditions — Allow Monetization — Continue.
To qualify for in-stream Video Ads, your content has to be original and you to own the rights to the music you play in your video.
Your video should be at least two minutes long to monetize. You cannot monetize images, text montages, polls, slideshows, or looping videos.
Here are ways you can make money with your content:
Bonuses
Bonuses enable you to earn money from the content. For example, Reels Play is a bonus program where you earn for the number of plays on your reels.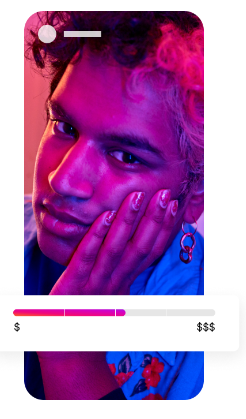 As I write this, Instagram Reels Play is invitation-only and available to US creators alone that have less than one million followers. When you get an invitation, you'll receive a pop-up notification and an invitation that should appear in your professional dashboard.
You can track your progress on your professional dashboard and once you've earned the minimum specified amount of $100, you can withdraw it your cash.
RECOMMENDED: Go here to see my no.1 recommendation for making money online
Live badges
You can make money on Instagram using live badges. It is a feature that enables your followers to show their support with cash during a live stream.
When someone purchases a badge, a heart icon appears next to their name in the comments section.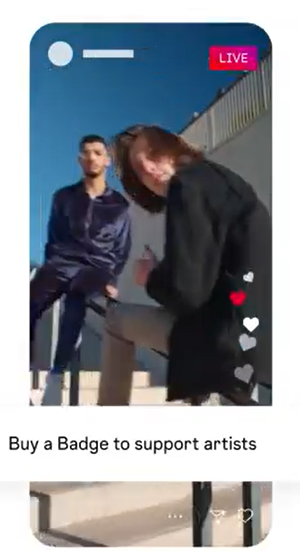 A badge remains next to that person's name during the live stream and their name appears on a list that you, as the creator, can view for 90 days. Followers who buy badges have their comments highlighted and shown to you.
Your followers can buy multiple badges during an Instagram live. There are different tiers of badges each with a different price.
One heart – USD .99
Two hearts – USD 1.99
Three hearts – USD 4.99
Badges allow followers to have a special connection with you and you get paid.
Subscriptions
You can earn more money on Instagram with subscriptions.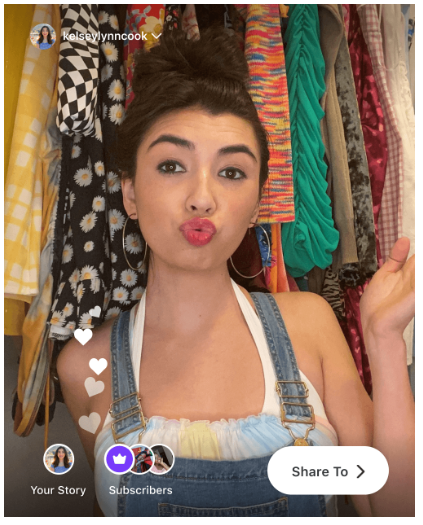 The subscription feature allows you to earn recurring monthly income by offering exclusive content and experiences to your most loyal followers.
The exclusive content is highlighted with a purple ring.
Subscribers get a subscriber badge next to their name that enables them to stand out in the comments and DMs. You set the price of the subscription.
To create a subscription, you have to be at least 18 years old, based in the US, and have 10K followers. In Canada, Australia and the UK, you can only have subscriptions on an invitation-only basis (as of writing this). Visit the @creators page on Instagram to confirm these terms because that could have changed by the time you are reading this.
From your subscriber list, you can block, restrict, report and remove subscribers. You can also monitor your earnings, new subscribers, cancellations.
RECOMMENDED: Go here to see my no.1 recommendation for making money online
Affiliate marketing
You can make money affiliate marketing on Instagram. When you become an affiliate, you make money selling other people's products.
If you have a decent number of engaged followers on Instagram, you can join affiliate programs from companies like Amazon Associates, Clickbank, HostGator, eBay Partner Network, ShareASale, and GoDaddy. (If you are looking, here is a detailed list of the best affiliate marketing platforms)
As an affiliate marketer, you will make money when people buy products using your affiliate link. That is different from influencers who merely create brand awareness and their earnings are not tied to the number of sales they generate (there is no quantitative way of tracing an influencer's sales).
There are two popular ways of promoting affiliate links on your Instagram:
Instagram Feed: As you post your content, you can promote products by sharing promo codes, doing shoutouts or using a trackable link in your link in bio section.
Instagram Story. This is another great way of promoting affiliate products because all you do is provide a swipe-up link and when your followers swipe up, they can purchase the product without having to go anywhere else.
As an affiliate marketer on Instagram, the goal is to promote affiliate links (trackable links) through clickable links in your Instagram bio and Instagram Stories or with the use of stickers. You can also create unique promo codes because you can't put links in Instagram posts.
You should also consider shortening your affiliate links that can be long and ugly if you will insert them in your bio. Use a URL shortener like Bitly.
In addition to marketing products on Instagram, you can expand your revenue base by spreading your online presence to include other marketing channels.
Launch an Instagram Shop
Instagram has integrated many useful features to its platform that allow people to easily shop your business' videos and images on the platform.
There is an Instagram Shop tab where people can visit if they want to find new brands that are relevant to them.
Therefore, one of the ways you can make money is to have an Instagram shop where you can sell products. To get going, you need a Business or Creator account.
You can set up an Instagram shop for free. Instagram only charges you a commission when someone purchases through Instagram checkout.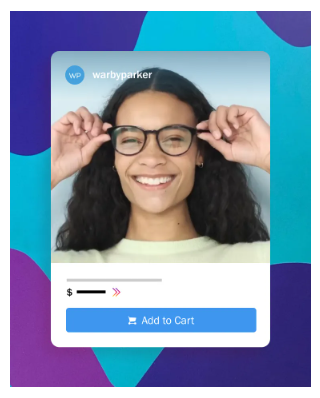 To set up an Instagram store, follow these steps:
Convert your Instagram account into a Creator account or a Business Account.
Connect your Instagram account to a Facebook Page
Add products to your store catalog and start selling to make money from Instagram.
Instagram enables you to customize your shop by creating collections or curated products. You then add product descriptions where you include all relevant product information, such as pricing and descriptions.
You can link it to your ecommerce website to allow your followers to buy directly from you or you can allow them to go to Instagram checkout.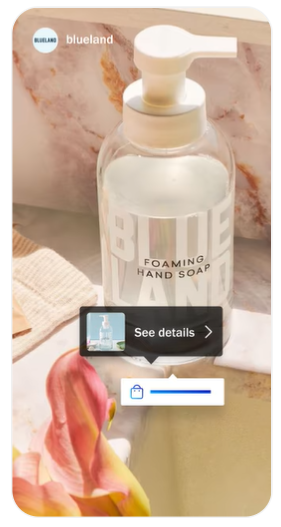 People can buy products from your Instagram shop as you livestream through live shopping. Just ensure that as you go live, you tag products your products. The product typically appears at the bottom of the screen.
You can also place you products in your Instagram posts and Stories. Use the appropriate product tags that people can click if they want to learn more about your product.
RECOMMENDED: Go here to see my no.1 recommendation for making money online
Promote sponsored content as an Instagram influencer
One of the most popular ways to make money on Instagram is to Become an Instagram Influencer.
An Instagram influencer is someone who built an online reputation of having a nuanced take on things and sharing trendy things. Influencers are viewed as experts whose opinions are valued by their legions of followers.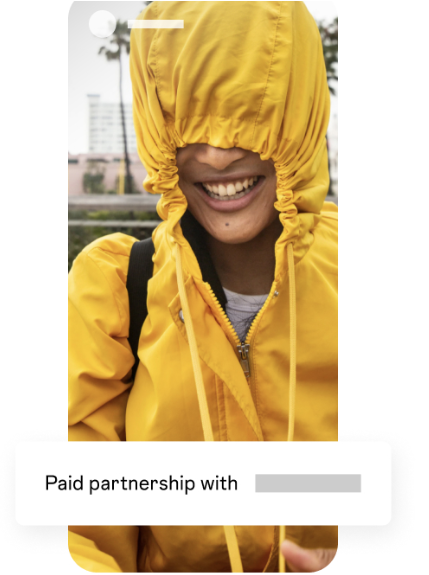 Many companies leverage the influence these individuals have and partner with them to market their products using sponsored content like posts, Reels, and Stories.
After all, Instagram is a massive platform with more than 1 billion+ active monthly users and they cannot afford to miss out on it.
When a company hires you, they will ask you to create Instagram ads, a post, a video, or a Story promoting their product.
For an influencer, sponsored content is arguably the best way to earn money from Instagram. Influencer marketing is not a complicated thing if you pick the right niche and work hard to stand out from the crowd.
Don't forget that brands go for influencers who have their audience's trust. The follower count is an advantage but not the main element they look at because they care more about engagement rates.
It is good practice to add a #sponsored hashtag to your sponsored posts whether it is required or not. It allows your audience to know that the specified post is part of a partnership, which builds trust.
You can also insert the "Paid Partnership with" tag that Instagram provides for identifying a sponsored post.
For examples of how this looks like, search "#sponsored" when you visit Instagram.
How do you make money as an influencer?
Create a Business Account
You should also have a business account on Instagram because it has more features than a personal account.
A business account has an analytics feature that will help you know the makeup of your audience, your engagement rate, and other important metrics that will help convince a company to hire you as an influencer. You need the statistics as you negotiate your payment terms with the brand.
As you negotiate with a brand, remember that you are not just offering content but usage rights and access to your audience, which comes with massive reach on one of the most popular social media platforms. So, price yourself accordingly.
Here are some other features you will have access to: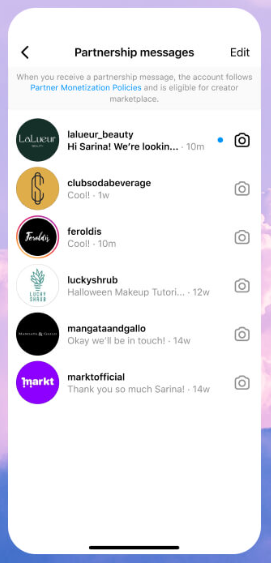 Instagram makes it easier to communicate with brands by having a dedicated folder called "partnership messages" on top of your primary tab. This helps keep partnership messages organized.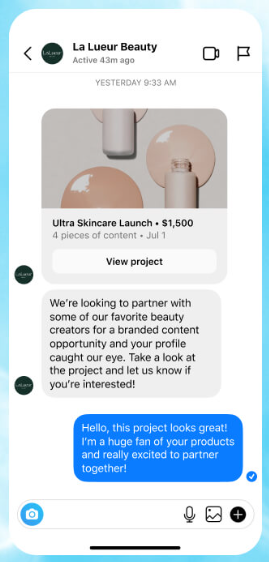 Instagram has a "project" where brands will send a 'project' for you to review the details and requirements, as well as the rate. All that within the app. You can also get your projects directly in the 'Partnership messages' folder.
RECOMMENDED: Go here to see my no.1 recommendation for making money online
How many Instagram followers do you need To Make Money?
If you are wondering how many followers you need to start bringing in money, the answer is not defined. It depends on your niche and how easily you can directly tie a product to it from a category such as beauty, fitness, fashion, food, and other popular niches.
It also depends on your engagement rate and the revenue channels you choose. The higher the engagement rate, the better.
Instagram influencers with large, engaged followers make a lot of money but even those with fewer followers can start making money.
How to find brands to work with
The more popular you are, the easier it is for you to find sponsorships. If you're big enough, the companies approach you.
If you are not at that level, you can look for brands to work with that sell a product or service that matches your content type. For example, if you regularly post about cars, find a company that sells products that have to do with cars.
When you settle for a brand that doesn't match your content, it will not be an effective partnership for both parties although you can still make it work.
There are two ways of finding brands to work with:
Reach out to them directly. Send them an email or direct message on Instagram. To enhance your chances of getting contact, have contact Information in your bio, tag brands in your posts, use geotags, and use branded hashtags in your content.
Join an influencer marketplace where brands also go to find influencers. Examples of influencer marketplaces are Fohr, indaHash, and Crowdtap.
Fohr creates for you a "card" that works like a business card for an influencer because it shows your profiles (YouTube, blog, social media) and total reach to brands that are looking for a partnership. There is also a list of brands and their wants, so you can reach out too.
On indaHash, companies post campaigns where influencers can participate. All you need to do is post content with the specified hashtags. You have to have at least 700 engaged followers to qualify.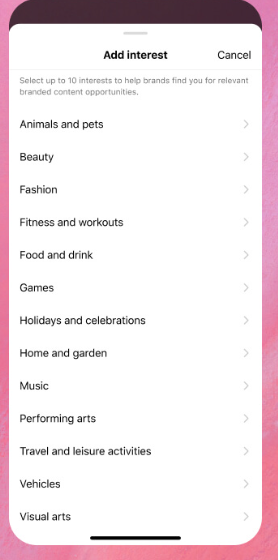 Instagram has a discovery feature where you indicate brands and interests that are most relevant to you. This will ensure that the brand opportunities you receive are a good fit and relevant to your audience.
How much do Instagram influencers make?
There is no fixed amount of money you can earn on Instagram as an influencer because how much you make will depend on a number of factors. You can earn anywhere from a few dollars to a million dollars per post.
Here are the main factors that determine how much you make:
Number of followers you have. The more followers you have, the bigger the influence you bring to the table. So, you will make more money with more followers.
Engagement rates. Engagement rate is how active your followers are. You may have a large number of dormant followers and that significantly diminishes your influence and the amount of money you can command.
How good you are at marketing. If you are posting regularly and making use of all the tools at your disposal to market your goods or services, you will get more sales and more money.
In the influencer business, there are levels to how much you can get paid, based on follower count. However, if you don't have thousands of followers, don't lose hope because you can get there by engaging your followers and providing them with value.
Besides, you can start making money even with as few as 1,000 followers if you are getting high engagement rates.
After all, brands care about influencers having an active following than having a large number of followers.
There are Instagram success stories of people who've made a lot of money selling products or services or promoting them on the platform.
RECOMMENDED: Go here to see my no.1 recommendation for making money online
Use Instagram to boost your ecommerce store
In addition to affiliate marketing and sponsored content, you can also sell your own products directly from your ecommerce store.
Instagram will provide you with a ready market for your products thanks to its massive engagement metrics.
As you sell directly from your store, you will be selling your products and they will most likely match the kind of content you create.
You can also see it as a way for your followers to show their love and support for your work if content creation was your main goal for setting up an Instagram account and selling comes second.
You can sell physical goods, services, or digital items in a number of ways:
You can link your Instagram business account to your dropshipping business. The advantage of a dropshipping business is that you don't have to deal with holding inventory or returns.
Print-on-demand. It is a type of business where you don't hold inventory and allows you to print and ship novelty items like t-shirts, pillows, coffee mugs, wall art, and more.
Professional website where you sell services such as consulting or photography
A website or blog where you sell digital products such as ebooks, online courses, or design templates.
On Instagram, you can conveniently sell items like clothing, shoes, art, and others that you make or own.
If you are into photography, you can list your photos in marketplaces like 500px or Twenty20, and license them before linking them to your Instagram accounts.
Sell Services
If you are an expert in a given field, you can base your business model on Instagram marketing whereby you give consultation services to your followers.
Instagram is full of potential clients for consultation. You can grow your audience by providing valuable information on your page and they can become your clients.
Here are some of the services you can offer:
Sell Instagram Marketing Services
Social media marketing is big these days. If you get good at it, you can start an agency and offer Instagram marketing services.
Major companies and brands often promote their products on Instagram because it has a positive impact on revenue growth.
You can offer social media consultancy services whereby you show them how to optimize their campaigns to get more traction and useful interactions.
Although Instagram is relatively new, there are already many big agencies that are providing marketing services.
So, how can you stand out from the crowd?
One way is to focus on one niche. For example, you can learn how the Instagram algorithm works and specialize on handling Instagram reels. You will be known for creating viral content that gets a lot of attention.
Once you have that handled, the next step is to get clients. You can get clients by:
Approaching potential clients: You can approach a targeted client and tell them what you offer. Be careful not to spam them as it is always a big turn off.
Building a community. If you are on Instagram, your followers can become your clients. Build a community by creating an engaging environment and understanding your audience's likes and dislikes.
Post consistently: To become a successful social media manager, you have to be always active. You cannot afford to go away for weeks because it will kill your engagement and trust with your audience. If you are busy and can't keep up, you can create a batch of high quality posts and schedule post them with tools like Hootsuite or Buffer. These tools will post for you on the schedule and it will look like you are posting regularly.
Delivering quality services. Once you have gotten people to look at your service, you have to come up with the goods. If you deliver according to the client's expectations, you will build a good reputation and they may recommend you to other potential clients. That's how you scale your consultancy business.
Sell coaching services
You can sell coaching services and earn money on Instagram.
Coaching and mentorship services are forms of live training that are held for a specified period. These services can be in a field like digital marketing, communication, personal branding, or Business.
To have a thriving coaching service, you should be consistently posting and make sure that you are creating content related to your niche. That will enable you to showcase your experience and knowledge to your audience.
RECOMMENDED: Go here to see my no.1 recommendation for making money online
Sell Digital Products
If you are consistent and have high-quality content, you can sell your digital products on Instagram.
Examples of digital products are ebooks, printables, videos, photography, and audios.
If you want to sell digital products on Instagram, you can follow these steps to improve our sales:
Make your content relevant to the digital product you are selling: This one is straightforward because you should be creating engaging content that is related to your product always. If you are selling a cookbook, you should frequently post tips and advice on how to cook as well as pictures of food you have cooked.
Focus on one digital product at first: There are many digital products you can sell but you should only start with one product and later scale and start selling other products.
Pick the appropriate theme and layout: Instagram is all about the visuals. If you fail to provide an attractive visual, you will struggle to sell your products to sell. Use third-party tools to enhance how your products look if you have to. Tools like Canva can be a big help.
Make use of IG features like carousels in feed and stickers or boomerangs in your Instagram stories to increase engagement.
Use Instagram Live: You don't have to do it but it will help your business to let people know who is behind the brand. When you go live, you can interact with your audience to promote your digital product and your personal brand.
Collaborate with other influencers: When you collaborate, you cross-promote your products. They get to access your audience and you theirs.
Host contests and giveaways: As you sell your digital product on Instagram, you can boost sales and traction by organizing giveaways and contests. People love free stuff and they reward you for it with attention.
Use authentic captions: Captions are an important part of your Instagram content as it gives a glimpse of what the posts are all about.
Sell Online Courses
If you are an expert and already have an online course, you can sell it on Instagram.
Online courses are recorded training sessions, which differentiates them from coaching services because those ones happen live.
The online courses industry is booming and there is an opportunity to improve your enrollments if you sell your courses on Instagram.
In order to sell online courses on Instagram, these tips will help:
Create valuable course content: If you are looking for a niche, find out what your Instagram community would want. You can use online forums to find suggestions or identify challenges your followers are facing. If you can solve them with your content, then you can provide real value with a course.
Choose an appropriate online platform for recording lectures: There are platforms like Teachable or Thinkific that have features that make recording your course content a painless process. This will enable you to create high quality material that sells.
Make your Instagram content relevant to the course: In order to market your course on Instagram and share with your community, you should create posts, reels or stories that are relevant to the material of your course. Then you can share it to your followers and the more you share, the more likely you are to close sales.
RECOMMENDED: Go here to see my no.1 recommendation for making money online
Tips To Make Instagram Work For You
Optimize your Instagram Bio
Whatever you are selling on your Instagram account, you should optimize your bio to get more people to follow you.
If you are offering a service in the financial, health, fitness, or any other sector, your Instagram bio can win you more clients.
You can optimize it by doing two things:
Have an appropriate and clear profile picture
Insert a clear call to action. For example, if you are offering a service, ask your followers to Book a consultation.
Create an attractive Instagram Feed
Instagram is not only about being visually pleasing but also putting valuable visual content that adds value to people's lives. However, the former is very important.
Therefore, you should create an attractive social media feed that looks good and helps Instagram users know about your products and their features or your experience and knowledge in your field if you are offering a service.
It is the next logical step after you optimize your bio.
You can also put up some testimonials from your clients that provide you with social proof. Testimonials show that you are capable of offering a good service or product.
You can also enhance your feed by providing some behind the scenes photos or videos of your working place or your colleagues.
Build A funnel
If you own a website where you sell your products or services, make your Instagram page a part of your funnel. You can drive Instagram traffic to your website to gain business there.
Funnel Marketing enables you to drive traffic to your website to convert your followers into warm leads.
If you optimize your feed with content that provides value, ask people to buy your product or book your services. It gets easier to ask people to take the next step if you are already offering value from your Instagram page.
Create a landing page and drive traffic to it. You can create a lead magnet, which is an important aspect of funnel building. A lead magnet can be free stuff, an ebook, or anything that gets people signing up.
Make Use of Instagram stories, Instagram Reels, and Instagram Live
Instagram stories and Instagram Live can help you increase engagement on your page.
Instagram Reels is also effective at giving you massive reach. We live in a world where short videos on TikTok, YouTube, and Instagram get a lot of traffic and reach so you need to use them.
Instagram can be a powerful tool to earn money online but only when you have a good social media marketing strategy.
Before you leave
If you're tired of scams and want a real solution for making money online check out my no.1 recommendation.
It's helped me earn over $300,000 in the last 12 months alone:
Go here to see my no.1 recommendation for making money online
(This is a 100% free training)