These days, there is a class for just about anything online. Udemy is one of dozens of platforms available offering virtual classes to lifelong learners.
With a library of thousands of courses ranging in topic from graphic design to magic tricks, Udemy has proven itself to be an increasingly popular choice since its launch in 2010. It operates on a unique model where any subject matter expert can record their own course and share it on the site's marketplace.
In this Udemy review we delve deeper into the Udemy platform, how it works, its pros and cons and whether it is worth trying out.
Before I start…
If you're tired of scams and want a real solution for making money online check out my no.1 recommendation.
It's helped me earn over $300,000 in the last 12 months alone:
Go here to see my no.1 recommendation for making money online
(This is a 100% free training)
Udemy Review
RECOMMENDED: Go here to see my no.1 recommendation for making money online
What is Udemy?
Udemy is an online learning site that sells video courses in an array of topics. Its sweet spot is personal and professional development, with excellent management training, software tutorials, programming courses, and more.
We've covered many platforms that teach marketing and making money online like Hustlers University and Ecom Warrior Academy. But Udemy is a bit different.

There are more than 100,000 Udemy courses. You can pay for Udemy courses one by one, with prices varying per course, or you can get access to a catalog of content with a business subscription. Regrettably, the prices are high, and you need a minimum of five people for a business account.
In addition to offering online courses, Udemy welcomes instructors who want to make courses and sell them on the platform. Compared with other sites that host learning content, Udemy has amazing resources for teachers, including a list of in-demand topics that it updates regularly. Employers can get access to Udemy's most popular courses for their employees to encourage them to learn. Huge companies like Adidas, Pinterest, and Eventbrite have taken advantage of this.
In order to cover such a wide range of subjects, Udemy lets anyone publish a course. There are esoteric courses too that you won't find on other course platforms.
While Udemy offers a strong platform for self-paced, non-degree learning, it costs more than other sites and doesn't allow individuals to sign up for subscriptions. Other sites do, making them much more compelling for continued learning and skills development.
RECOMMENDED: Go here to see my no.1 recommendation for making money online
How Udemy Works
Udemy's intuitive site made it easy to find the perfect course for this Udemy review. The process of assessing my class options, checking out, and using the service was smooth, and after finishing my first course I felt inspired to try many more in the future.
How to Choose Udemy Courses
Finding the right Udemy course for your needs and preferences can be challenging because there are many options to choose from.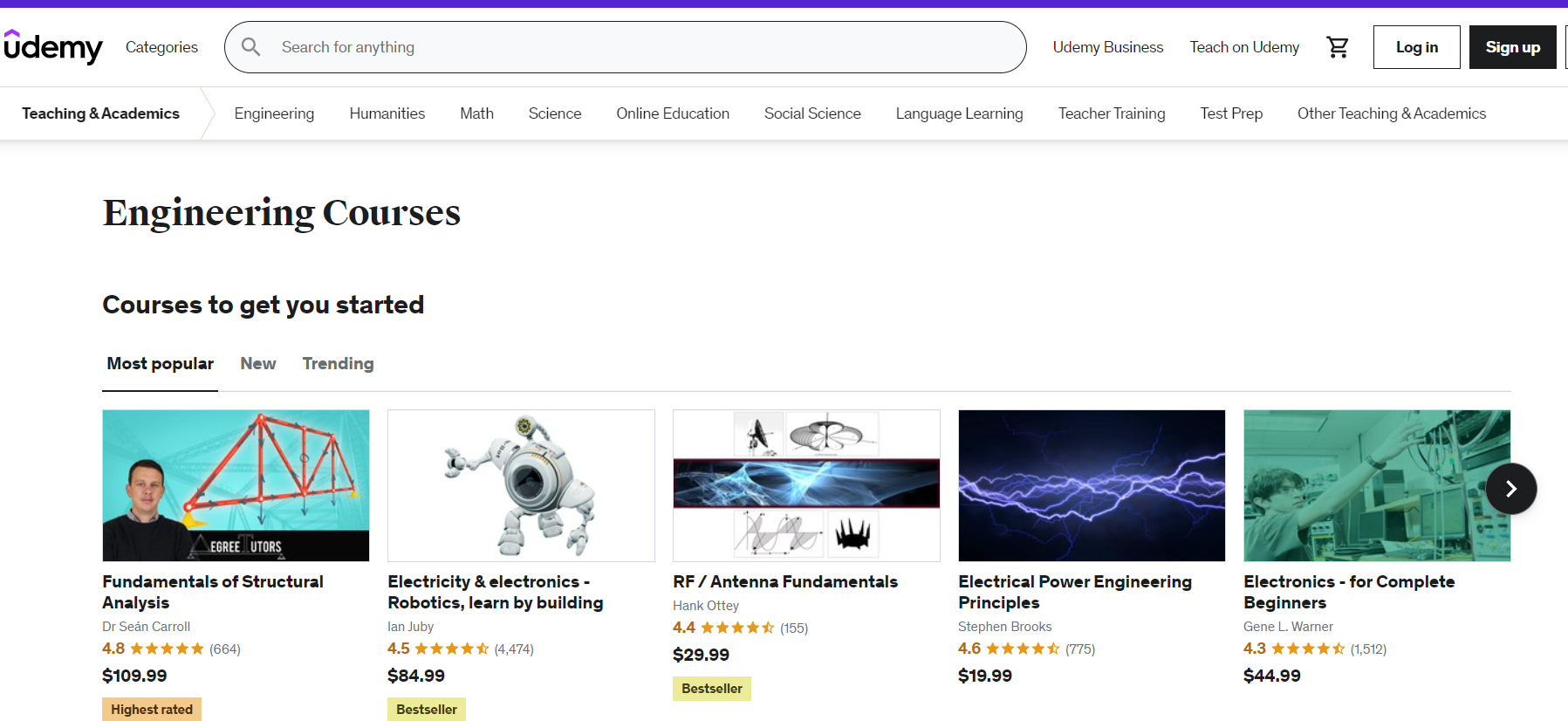 To get started, go to Udemy's homepage. You can search for the courses you'd like by keyword or by browsing through the categories listed above. You can shortlist the ones you'd like to buy by marking them as such, and then you can add them to the cart. When you're ready to go, buy your chosen courses.
You can also preview a class if you aren't sure that it's the right one for you. Since the course quality varies, you should check out the instructor first. To do this, navigate to the class by clicking on its icon or title, then click "preview this course" on the right-hand side.  When you're deciding on a course, read the objectives and course reviews to determine if it will help you meet your goals.
RECOMMENDED: Go here to see my no.1 recommendation for making money online
Purchasing a course
Buying a course is easy. Once you create a Udemy account, click the purchase button on the course page, and that will take you to a checkout form.
You can pay with any major credit card or PayPal, and there are no hidden fees of any kind. However, certain users have tried to contact Udemy customer support with regards to their purchased courses which they have not gotten access to, so this is something to keep an eye on.
Courses are typically divided into sections (i.e., lectures), which are then divided into small videos.
These small chunks are great if you only have a few minutes here and there to take the course. It's also easier than having to process an hour-long video all at once.
The software itself is smooth, and the video player comes with a handful of nice features that allow you to:
Change playback speed
Skip ahead or back five seconds
Turn on closed captioning
See a transcript (shows up in the right panel)
One other feature that's nice is the "Q&A" section underneath the video player.
You can ask questions if you don't understand something, and the course instructor or other students can answer. There's a separate Q&A section for each video in the course.
This is potentially a great feature that platforms like Fiverr Learn, don't offer.
Unfortunately, it's not always useful. Course instructors aren't particularly active in the Q&A sections. And since only people struggling to understand a video go to these sections, other students aren't usually able to help either. On course completion you'll receive a Udemy Certificate. In addition, there is a Quality Review Process that all courses go through to ensure that students are having the best learning experience.
In case of any unprecedented hurdles while undertaking the Udemy courses you could reach out to Udemy customer care representative for assistance.
RECOMMENDED: Go here to see my no.1 recommendation for making money online
What is included in Udemy?
One of the most important features of Udemy to mention is its technical features. You'll find that the video player and downloadable content on Udemy are high-quality and easy to work with. They rarely crash and are easy to work with.
Plus, when you purchase a course, you'll receive lifetime access to that course. You'll be able to return to the downloadable content again and again.
Udemy is compatible with web browsers along with iOS and Android operating systems. You can take classes on your computer, smartphone, or any other device.
Here are some of the features of Udemy:
Learning Certificate of Completion
Some, though certainly not all – courses on Udemy come with certificates of completion.
After completing the class, you'll be issued a certificate of completion that you can print out and add to your physical or virtual portfolio.
This may or may not be useful depending on what kind of class you are taking and why.
Ability to Test Drive
There are some online course platforms that require you to choose a course based on your gut instinct and the course's advertising alone. You won't really know whether a course is right for you until you've taken the class.
That's not the case with Udemy – you'll be able to test-drive a course before you register. You can return a course within 30 days if you decide you don't like it, as long as you haven't consumed a vast majority of the course content.
Course Features
Each course comes with standard features that you'll come to know and love. For example, in each course, you'll have access to video lectures, text lectures, and audio lectures. Most classes come with quizzes and also with subtitles, if the instructor chose to add them.
Some also come with supplementary resources and certificates of completion. Most offer the ability to read and post questions, take notes, and post reviews, too.
RECOMMENDED: Go here to see my no.1 recommendation for making money online
Types of Courses Offered on Udemy
There is such a huge variety of courses available on Udemy that it would take forever to list them. However, the most popular are:
Practical Leadership Skills
Complete 2021 Web Development Bootcamp
Photography Masterclass
The Professional Guitar Masterclass
NLP Practitioner Qualification
Each course is brought to you by industry professionals and some of whom are able to provide accreditation or certification to your course. All of the courses come with a lifetime access, so you are able to go back to your learning or take a break from it if you wish. You can browse courses by searching for a keyword, or by navigating through categories.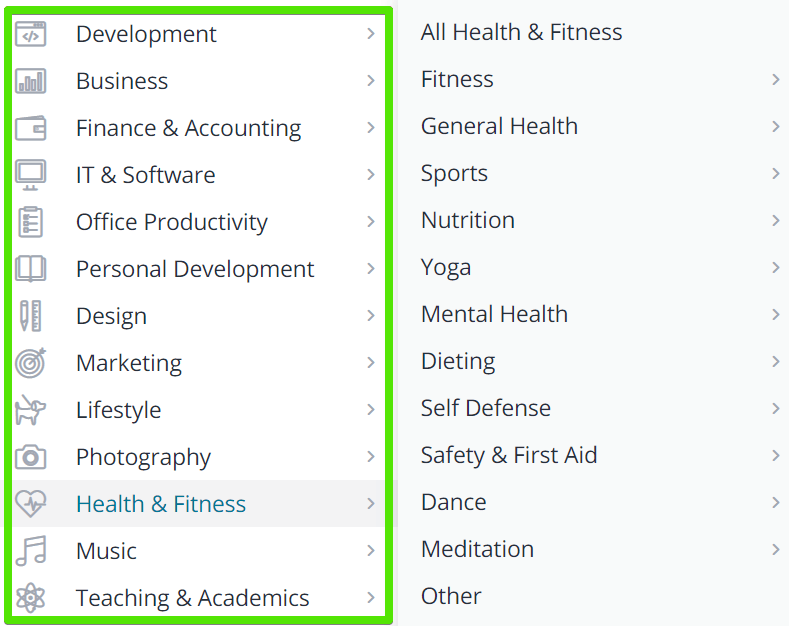 Each main category (e.g., design, finance, photography, health and fitness, etc.) have several sub-categories to choose from. Most courses are $25 to $200 if you buy them at full price. However, you can often get them at a discount, potentially even free courses with a coupon.
Professional skills, of both the hard and soft variety aren't the only topics covered, although they are the crux of the Team and Enterprise memberships. If you come to Udemy looking to learn something else, you can probably find it. That said, it's more likely that you would discover the training elsewhere, such as on the instructor's own website or through an instructor's social media accounts and get linked to Udemy from there.
RECOMMENDED: Go here to see my no.1 recommendation for making money online
How Much Does Udemy Cost?
The cost of Udemy courses vary greatly and you will find that Udemy has offers, coupons and deals available to help you keep the price down. You will find these deals on their website, on their Facebook page and on their Twitter feed.
Many of the Udemy instructors also offer discount codes for their specific course so if you see one you like, its worth checking out the instructor's website to see if they have a course code on there too. These codes can bring the price down by sometimes $100 or more so it is well worth hunting for them so that you can grab yourself a deal!
Money-Back Guarantee with Udemy Courses
One of the biggest positives of signing up for a course on Udemy is that each Udemy sale comes with a 30-day money-back guarantee. Past that 30 day cut-off, you can't get a refund.
That being said, there are a few rules in place to make sure the system isn't abused. If you download all the course content, you may not be eligible for a refund. If you frequently refund courses, you can even be suspended.
As far as requesting a refund is concerned, it's quite simple. When logged in to any course you've bought, you can select "request a refund" from the drop-down menu in the top right corner. Then you just fill out a ticket for a refund request and you're done.
RECOMMENDED: Go here to see my no.1 recommendation for making money online
Udemy Alternatives
There are other platforms that offer online learning on the internet. Like Udemy, many services charge a per-course fee, though most sell a subscription that lets you watch and complete all the courses. Here are a few worth mentioning:
Coursera
Coursera has a mix of free and paid courses, including those that can result in a degree or professional certificate, and they cover a range of subjects. Coursera is geared more towards serious students looking to take university-level courses online.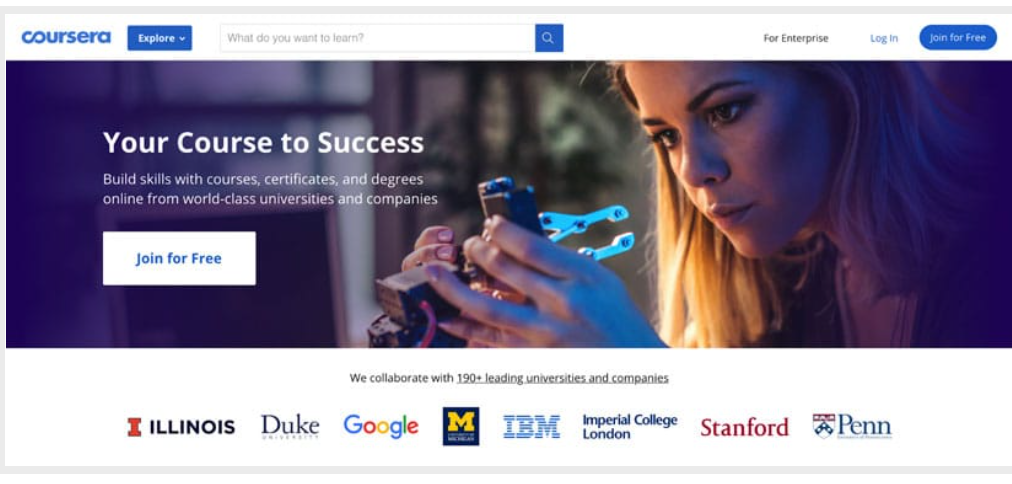 Many of the courses are taught in collaboration with top academic institutions (eg. Stanford, Yale) and big-name companies (eg. Google, IBM). Coursera Business accounts ($399 per person per year) cost a little more than Udemy Business. Masterclass, another alternative, hosts hours-long, in-depth classes with masters in their fields and sells access to its entire catalog for $180 per year.
RECOMMENDED: Go here to see my no.1 recommendation for making money online
LinkedIn Learning
LinkedIn Learning (formerly Lynda.com) gives you a month for free to try out the service. After that, it costs $29.99 per month or $239.88 per year.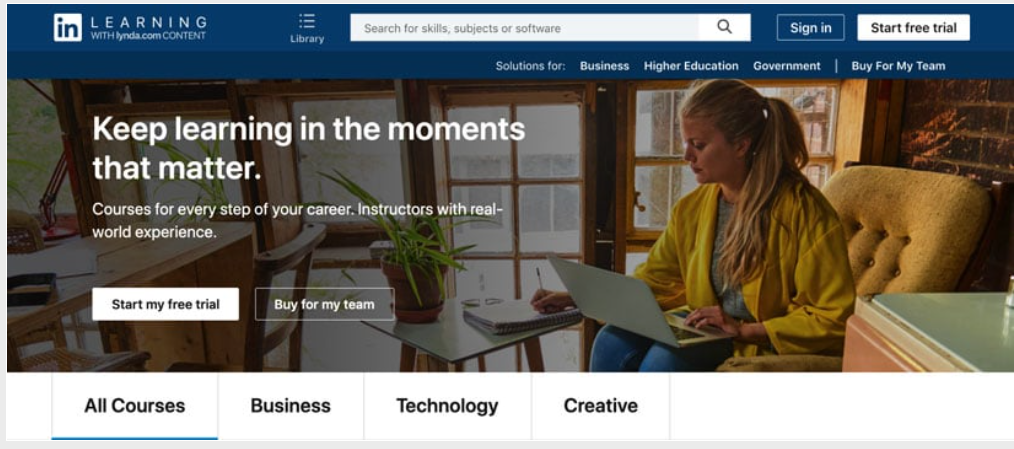 LinkedIn Learning's content ranges from soft business skills, like management, to more technical ones.
SkillShare
Skillshare has a free tier of service with limited content, as well as an all-access Premium membership for $8.03 per month or $31 per year. Skillshare is quite different from all the services mentioned so far because it focuses on subjects in the arts and creative fields.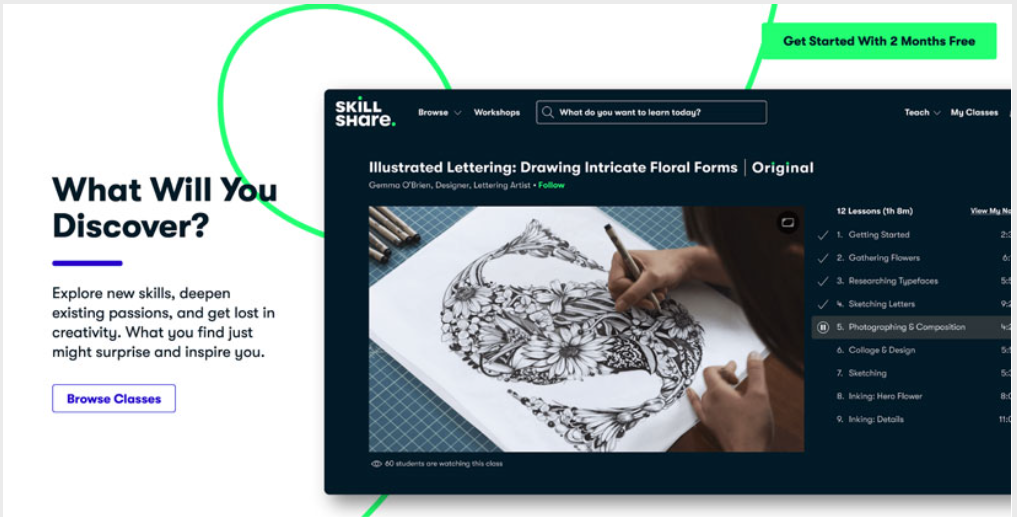 It has classes to learn sewing, memoir writing, building an Etsy store, and things of that nature. Skillshare is an Editors' Choice winner, but what it offers is quite different from Udemy so it doesn't compare as well as some of the other learning sites mentioned so far.
RECOMMENDED: Go here to see my no.1 recommendation for making money online
Udacity
Udacity is geared more towards serious students looking to gain employment or start a business in the tech industry. Many of the courses are taught in collaboration with big-name tech companies like Amazon and Google.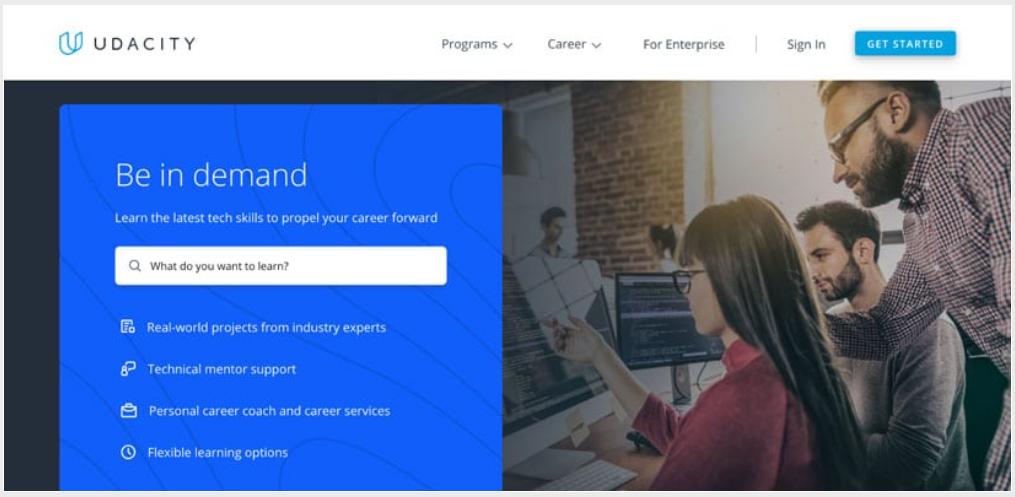 Nanodegree programs on Udacity cost $399 per month.That price can vary depending on the program, some programs offer a free trial, and there are also payment plan options and the occasional special offer.
RECOMMENDED: Go here to see my no.1 recommendation for making money online
Pros of Udemy
It is user-friendly
First, let's start with Udemy's ease of use. Especially compared to the other online learning platforms out there, Udemy is remarkably easy to use. It has an interface that is clear and easy to navigate, even if you don't have much experience working with computers or taking online classes.
In fact, when you log on to the Udemy homepage, you'll find that the landing page is very straightforward with a basic promotional banner, a list of classes, and some user reviews. It's not cluttered and overwhelming, making it a good option for the learners among us who want a more basic approach to education.
What's even better is that it's easy to find classes that might interest you. You can search via a category and subcategory or you can type your own set of keywords into the search bar. Once you select your course, you'll find that there isn't much variation between different courses. They all have a similar layout and format so it's easy to get used to the platform once you've taken a class or two.
In general, most pages will have a preview video, a description of the course and its requirements, and user reviews. If you decide to purchase the course, the checkout process is easy to follow. All you have to do is add the course to your cart, sign in, select a payment method, and start learning. Everything is standardized and easy to navigate.
Quality Courses
Another major benefit of studying on Udemy is the availability of thousands of quality courses. While there are hundreds of instructors on Udemy (and the quality can, as a result, vary a bit between teachers), most are talented and their lessons are worth every penny.
It would be impossible to take a class with every single instructor on the platform to weed out the good from the bad, but in general, Udemy is home to talented teachers who really know their stuff.
Built-In Payment Processing
This is a convenient feature both for instructors as well as for students. You won't have to jump through a ton of hoops to pay for a course, and as an instructor, you don't have to have a separate PayPal or Stripe account. There are no platform fees, although instructors are charged transaction fees.
RECOMMENDED: Go here to see my no.1 recommendation for making money online
Cons of Udemy
Lack of Feedback
One of the most common complaints about Udemy is in its communication platform. Although you can ask questions of instructors while taking a course, it is rare for instructors to actually respond to their students. Many Udemy students have complained about this, making it a sticking point when you're choosing between taking courses on Udemy or on another more responsive platform.
It's not just the instructors who are lacking in their communication skills, either. The staff at Udemy aren't the best at responding to questions or inquiries for help.
Confusing Pricing
Another issue with Udemy is its confusing pricing model. Udemy does not price its own courses but instead leaves those decisions up to the instructor. Therefore, all prices are determined solely by the people who create the courses, so there can be quite a bit of price variation between classes (and it doesn't necessarily indicate the quality of the course, either).
That said, both Udemy and the group of instructors can create promotions with discounted price tags. So if you see a course that is on sale, it could be either party that is responsible.
When you're trying to decide which classes to take, remember that free doesn't necessarily equal a low-quality course. It could be free because of a special, limited-time promotion or simply because the teacher is trying to make a name for himself or herself. In general, though, the more expensive courses tend to be taught by credentialed experts, in tougher categories and subjects, or have a longer run time.
Lack of Course Credit
Unfortunately, when you take a class on Udemy, you aren't going to get course credit. Most courses are targeted to beginners with little experience, and expertise is definitely in the eye of the beholder – there is no uniform standard for credentialing instructors on this platform, nor is there a uniform accrediting agency to hold instructors accountable.
Because of this, you shouldn't expect to get course credit that can be transferred into a college program (or anything of a similar nature) when you take a class on Udemy.
RECOMMENDED: Go here to see my no.1 recommendation for making money online
Udemy Testimonials
Thousands of students have given Udemy a whirl, and searching for "Udemy courses review" will return a wide spectrum of feedback. Because there are so many courses and instructors to choose from, two users' experiences on the site can be very different from one another.
Users cite the course variety, easy-to-navigate website, and affordable prices as points in Udemy's favor. Most reviewers who were pleased with the site mention that they've already taken multiple courses and intend to take more in the future.
While most Udemy.com reviews seem to be positive, a few common consumer complaints are worth noting. Some Consumer Affairs reviews have reported that their refund requests were ignored or rejected by Udemy despite the 30-day money-back guarantee. Representatives were either too slow to respond to the requests or were unhelpful in some cases. A common observation among Trustpilot reviews is how much the quality tends to vary across courses.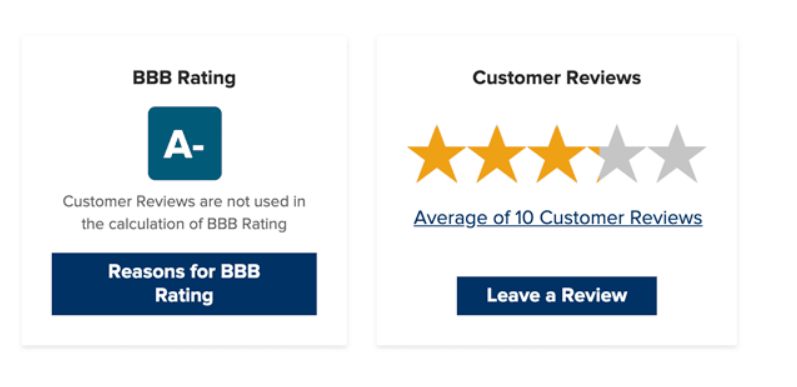 As mentioned, it is impossible for a site like Udemy to thoroughly vet each and every course, so some variation in quality is to be expected. Individual Udemy course reviews pertaining to specific classes might provide some insight in these cases. Keep others' Udemy classes reviews in mind, but also take them with a grain of salt since people are more likely to report a negative experience than a positive one.
RECOMMENDED: Go here to see my no.1 recommendation for making money online
Is Udemy Legit?
If you are searching for something to broaden your mind or develop a new skill, then Udemy is definately worth it. So long as you time the pricing right, you can actually learn a lot for a little amount. Be sure to check the review ratings on each individual course so that you choose the best one and get the most for your money. And if you want to take it further then you could always share your own skills and write a course of your own. We hope this Udemy review has been helpful and that you are now able to make a more informed decision when it comes to choosing the right online learning platform for you.
Udemy Verdict
Udemy has ample content, and most of it is good. The fact that there are only two options to access that content, pay per class or get an expensive Business account with a minimum of five members, severely limits the service's overall appeal, however it would be a much better service if it offered a subscription level for individuals. Whether seeking a software tutorial or instructions on starting a new craft, students likely won't need to look further than the nearest computer or smartphone.
For instructors, Udemy has wonderful resources. That said, we have not closely compared Udemy's platform from the instructor perspective with other platforms where teachers host their lessons.
If you're interested in taking courses for self-improvement, career advancement, curiosity, or simply because you have a love of learning, we think you can do better than Udemy. Three Editors' Choice winners; Masterclass, Khan Academy, and Coursera offer better value and on average more interesting and compelling classes. Which service is best depends on what you want to learn. Masterclass is best for feeling inspired and learning deep insights into a subject from a true expert. Khan Academy is best for academic subjects, like trigonometry and organic chemistry. Finally, Coursera has a wide range of content, a lot of it for free, for everything you can't find elsewhere.
Before you leave
If you're tired of scams and want a real solution for making money online check out my no.1 recommendation.
It's helped me earn over $300,000 in the last 12 months alone:
Go here to see my no.1 recommendation for making money online
(This is a 100% free training)